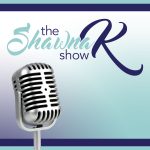 How do we love ourselves as we age?
Too often I see women hiding away and thinking that their best years are in the past.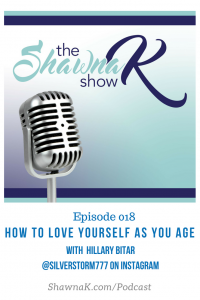 I'm all about looking ahead with optimism towards the future. This includes embracing the whole idea of aging in a whole new way.
I found a beautiful woman on Instagram that personifies aging exactly this way. I just knew I wanted her and her powerful message on the podcast.
Listen in as you here my guest, Hillary Bitar AKA @Silverstorm777 on Instagram as she relates her story. She went gray in her 30's and decided to embrace her lovely silver locks. She relates the judgement that she felt and the cruel comments from other women and how she rose above. She has an amazing attitude towards aging, this is the sort of enlightening and uplifting message that we all need to hear.
About Hillary
Born and raised in NYC. I was a senior buyer at Bergdorf Goodman for about 10 years until I got married in 1992. My husband is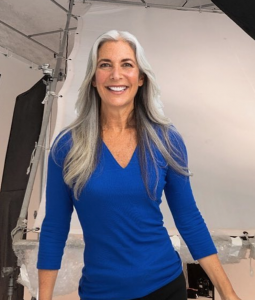 a retired ambassador and we spent 18 yrs overseas in various continents until moving back (yay!!!) to the USA (Miami) in 2009. Our son Shaun is 23-The greatest gift of all, being his Mom 🙂
I was a model in my late teens but never the right "all American blonde blue eyed" look back then so i did it only as a side job during HS/college.
I re-entered modelling at around 50! Auditioned for a Zumba campaign thinking it was to be a dancer- i booked it – but as a model for their ZumbaGold division. I was encouraged by the director/photog to pursue it- they loved my silver hair and natural look. I signed with a few agencies and have been working ever since.
My "brand" image is 100% naturally aging- to represent women who choose to Not dye their hair, Not use botox/fillers etc. I don't think it is for everyone -but I hope that my visibility shows it's an option. Lets just erase the stigma that aging is negative and something we need to erase.
I try to exercise daily, and believe in moderation as a lifestyle for nutrition and overall well being. I think I represent an attainable healthy and fit approach for the long term-like the next 40-50 years?!