Are you discouraged with little or no progress where your health and fitness are concerned?
Here are 5 mistakes to avoid…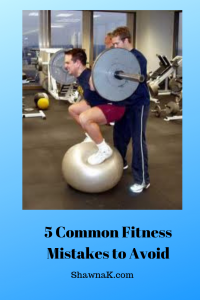 1. Don't do too much too soon – start slowly to avoid overwhelm, discouragement and the temptation to quit.
2. Don't 'just' rely on the scale to determine progress. Look at performance goals & non-scale victories to measure your success.
3. Find the right fitness approach that agrees with your body/schedule/fitness level. Not every fitness approach is for every 'body'. There are many ways to get & stay fit!
4. Set realistic expectations – don't compare yourself to anyone (or to yourself 20 years ago!).
5. Don't copy others – they may not know what they're doing either! It's like taking someone else's prescription drugs if you follow someone else's program or plan.
Get some professional help along the way to maximize your TIME invested in your health. Time is your most precious commodity. Make the most of yours & get the biggest bang for your workout/nutritional buck by doing it right in the first place.
And of course, reach out to me if you're a woman 40+ that needs some direction!