❓Iron Deficient?…
Not the kinda iron in the gym, I mean the kind in your blood💉…
If you're constantly…
😴tired & weak…
🥴feeling lethargic or run-down…
🤕headaches…
😱heart palpitations…
😰become breathless with physical activity…
.
✔️You may be iron deficient…
.
👩1 in EVERY 12 women can iron deficient…
.
🥗25% of the vegetarian community is iron deficient…
.
☑️The BEST way to manage iron is through DIET🍽…
.
🔹There are 2 main sources of iron…
〰️haeme (animal source🐄)…
〰️non-hame (plant source🌱)…
.
👉🏻Only 5% of non-haeme iron sources are absorbed while 20% of haeme iron sources are absorbed…
.
🥩🍊Combining iron rich foods with Vitamin C rich foods such as citrus fruit, tomatoes & other red & yellow fruits & vegetables can also increase iron absorption….
.
☕️Fun fact: in the same way that adding Vitamin C can enable absorption👍🏻 – adding foods high in caffeine can deplete iron absorption👎🏻…
.
🔺Women generally need twice as much iron as men…
.
If you're low in iron your body will absorb more as long as you eat iron-rich foods💃🏼…
.
🔻Women between the ages of 30-50 need 18mg of iron daily. Over the age of 50, women require only 8mg…
.
✔️Iron can be found in several foods including…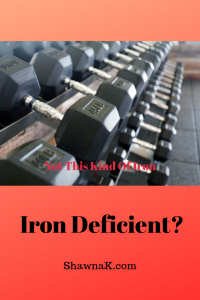 * Red meat (including dark-fleshed fish such as tuna, poultry like ostrich and duck)…
* Soybeans…
* Lentils…
* Spinach…
* Sesame seeds…
* Kidney beans…
* Potatoes…
* Molasses…
* Prunes…
* Cashews…
* Chickpeas…
* Pumpkin seeds…
* Navy beans…
.
💊Ferrous iron is the most commonly recommended supplement & prescribed form of iron because it provides a high dose of elemental iron per tablet, is relatively cheap & is easily accessible…
.
🤢It can cause significant gastrointestinal side effects including…
* nausea…
* bloating…
* heart burn…
* gas…
* abdominal pain…
* constipation…
* black/tarry stools….
.
💊Ferric iron formulations usually produce less side effects compared to ferrous iron but is less effective at treating iron deficiency or anemia because the bioavailability of ferric iron is usually 3-4 times less than ferrous iron…
.
✔️Iron supplements should list both the amount of elemental iron (in milligrams) and the type of iron…
.
💊To treat iron deficiency, the recommended dose of elemental iron should be between 60 to 120 mg of elemental iron per day for a minimum of three months…
.
💊Lower doses of elemental iron can be found in multivitamins. This dosage may help to maintain iron levels, but won't be enough to correct iron deficiency and restore normal iron levels…
.
🤷‍♀️If you're taking an iron supplement but still deficient, you may be low in Vitamin A…
.
👩🏼‍⚕️Check with your doc before supplementing with iron as this mineral can cause toxicity & even death☠️…
.
🙋‍♀️Ladies, lemme know if you have any health or nutrition related questions…
.
🤳🏻I gotchu covered! Let's talk to see if we'd be a good fit to work together, start here.