Sorry for the harsh message ahead.
You're special but probably not THAT special. I'm sorry that sounds harsh but hear me out.
It seems that many are getting just a snippet of (mis)info and self-diagnosing some serious stuff. Some 'coaches' are even playing the fear card telling clients they are 'broken'.
The fact is, you probably DON'T need to get a hormone panel done, your thyroid is probably not messed up, your hormones are probably not OUT of control, your metabolism is probably not permanently depressed.
Hold on for a hot minute.
You 'may' have some health issues related to these things but have you tried 'the basics' with 100% consistency for at least 30 days?
I mean 100% consistency.
We live in an insta-gratification world so when results don't come in the first week or two, it can be discouraging.
The fact is, when you get BACK TO BASICS we can solve 'most' issues.
By 'basics' I mean:
🍽nutrition…
🌸lifestyle…
😳stress…
😴sleep habits…
💪🏻exercise…
🧠 even mind set…
But it takes T I M E…We need to be kind & patient with ourselves.
If there are ABSOLUTELY no results in 30 days, then further investigation may be warranted, but let's look at the sort of results we need to watch for.
Often times non-scale victories come F I R S T: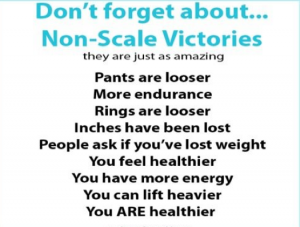 ⚡️increased energy…
💪🏻increased strength..
😴improved sleep…
🤔better mental clarity…
👗clothes fitting better…
✨more self confidence…
💥less aches & pains…
🧘‍♀️improved mobility…
Weight loss follows 🔜
Keep in mind that weightloss is NOT the ONLY (or even best) indication of progress. Marketers might want to confuse & confound you so that you'll buy their pill/powder/potion or pay for expensive testing that you don't need.
Don't buy in.
Instead, invest time & effort in yourself. Simply get back to basics with CONSISTENCY for a minimum of 30 days.
Again, I hate to be harsh, but you probably didn't gain your weight in 30 days, don't expect it to fall off in less time.
✖️You are NOT broken.
✨You are PERFECT.
We might just need to investigate & connect some dots.
Accountability & support make all the difference (that is if you 'know the basics').
🙋‍♀️I gotchu! I can help with the 'basics' and with the accountability/support.
Hit up me up HERE & let's get talking…