🤔Confused about portion sizes but not ready to 'count macros'?
💃No problem!

✔️While I find macro counting to be a very effective [temporary] tool for health & weight management, it's not for everyone🤦‍♀️
✨If you'd like to still 'track' your intake but not weigh & measure every morsel, you've got a handy tool at the end of your arm✋🏻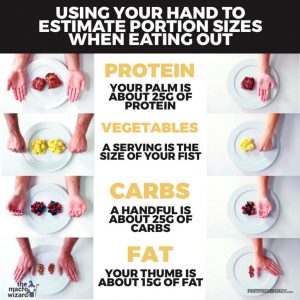 👏🏻You can use your hand to estimate portion sizes.
🙌🏻You can't get much more personalized than this!.
☝🏻Women, you will use one hand to determine portion sizes & fellas, you'll use two hands👐🏻
It's as simple as:
🖐🏻palm size is protein serving.
🤜🏻fist size is starchy carb.
🖐🏻open palm is serving of veg.
👍🏻end of thumb is fat serving.
⭐️This is especially helpful when eating out.
🌟In addition to the hand size portions, here are a few other tips:
🔹Try to replicate what you eat at home (serving size wise) as much as possible.
🔸Possibly do a little measuring to start & then use visual memory with portion sizes & choices.
🔹In restaurants, exaggerate portion sizes (judge on the high side), especially the fat count.
🔸'De-construct' a meal into it's components & estimate individually.
♦️Adjust the rest of the day around your meals out.
💁‍♀️Food tracking has helped me maintain my weight since high school, it provides immediate awareness & accountability.
📝While I have NOT food tracked my entire life – I've used the education I gained to adjust serving sizes & eat for my metabolism.
❓The BIG question now is HOW many portions do you need?…
🙋‍♀️If you want more direction, I'd love to help, I'm only a message away🤳🏻or start with this questionnaire.