You don't need another diet.
Do you want to drop a few pounds? Are you looking for the next best thing?
Maybe it's carb cycling? Maybe it's that keto thing? There's got to be something out there to help you lose your menopause belly, right?
The fact is, you don't need a diet. You should never go on a diet.
What you need is a mirror to really look at what's going on in your life.
You can't see the whole picture when you are in the frame.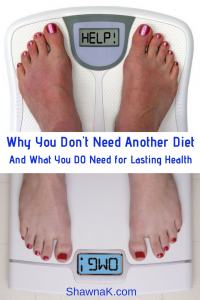 This was the same with my own experience regarding nutrition.
I thought I was eating a healthy diet, and guess what? I was. But I needed someone to point out a few tweaks that I could make that would make all the difference.
My coach helped me see things that I couldn't.
As a result, my energy and workout performance are better and I actually dropped 6 pounds.
What would someone see if they looked at your nutrition and lifestyle from the outside?
First step for you would be to food log. This helps you gain perspective that you might not otherwise see.
My favorite way to food log is by using the app My Fitness Pal.
Starting to food log can be self-correcting because it will make your eating a little more intentional. It will remind you of empty calories that you might be consuming. It will reveal the true content of your choices and will help you make better choices.
But food logging isn't enough.
Once you are aware of your intake, you'll need a bit of direction to tweak what you are eating.
You can't continue doing the same thing and expect different results. But small changes will make a huge difference. Having some outside eyes and expertise will help you get closer to your goals much faster with less frustration.
The other benefit outside eyes will reveal aspects of your life that you may not have considered.
It's important to connect the dots between behaviors and intake. Sometimes just switching of behavior or environment will dramatically change your physique.
For example, one of my clients struggled with eating at night. We tweaked some of her habits during the day to solve those cravings at night.
Another client had issues with food in her staff room, we were able to connect the dots on this using her food log as a guide.
Another client was surprised when I pointed out how her eating was emotionally charged and just becoming aware of this helped her change her environment slightly.
Sometimes our nutrition isn't about food at all. Sometimes it's all about our environment and by making slight environmental shifts, we can change our results and the number on the scale.
It's difficult to make these connections alone though. Sometimes just having someone in your corner to hold a mirror up makes all the difference.
What are you not seeing where your lifestyle and nutrition are concerned?
My challenge to you is to take a step back and assess.
Start by food logging. This will be somewhat self correcting to begin.
If or when you need more direction, reach out, I've got you covered. Fill in this questionnaire for starters.