Fail to Plan…Plan to Fail…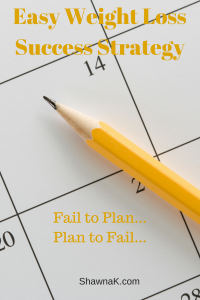 What are you doing to take care of your health?
Having a plan is the easiest way to stay on track and not drift back to old habits.
Here are a few things to consider:
✅ Pack your lunch for work vs eating out.
✅ Meal prep your breakfast eg overnight oatmeal, smoothie ingredients at the ready.
✅Have your gym clothes/work clothes laid out.
✅ Have a plan for your workout – know what you're doing to make the most of your time.
✅ Plan the evening meal (possibly meal prep one day a week to chop veggies, pre-cook meats etc)
✅ Plan something fun in the week – maybe a night out, a movie, a meeting with a friend, something to look forward to where you'll focus on the event and not necessarily the food.
For me, I'm traveling so here's how I've prepared:
✅ Packed gym clothes.
✅ Already checked out the hotel gym.
✅ I have some snacks packed.
✅ I worked out today and have loaded up on water before leaving.
✅ Packed my stainless steel water bottle.
It's great to have a getaway and a trip doesn't have to sabotage your health journey.
Whether you're at home or on the road, having a plan is the best way to stay the course.
Speaking of trips…why not join me for my fall retreat?
Join me Sept 14-16 to relax, reconnect and re-energize!…
This ALL INCLUSIVE retreat is gonna blow your socks off….
See the beautiful Rocky Mountains in full fall colors….
🔹
Level up your health and fitness game….
🔹
Do 'top down' re-programming so your dedication and motivation to your goals last long after the retreat is over…
🔹
Oh, and did I mention fun? Lotsa that too!..
Check it out here: https://nutrition.shawnak.com/retreat-2018
Let me know if you have any questions, I'm happy to jump on a call to clarify any details!