Here are a few inspiring words from SUPER client Lori O. on her fitness journey! 💙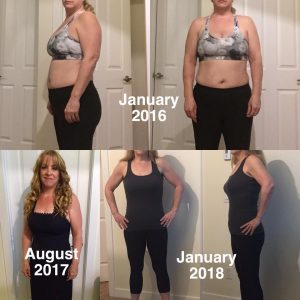 My weight loss journey can be summed up with one word "excuses". I can list off why I spent 20 years on a weight loss roller coaster – moving, pregnancy twice, moving, work stress, health issues, moving to a different country, tons of fantastic restaurants, moving, living apart from my husband due to job requirements, and so on and so on…. But seriously this is just all part of life. Truly my life has been blessed compared to a lot of other people's challenges.
My highest weight back in 2013 topped the scales at 197. I always tried to look on the bright side of things and enjoy life, but at this weight enjoying life was a struggle. I finally came to the realization that I wanted and needed to be healthy; I needed to feel good about myself. Having the support of my husband and daughters, I turned my health around when we moved back to Canada in 2015.
I started to see results and before I moved to Calgary and joined Calgary NW Fit Body Boot Camp. I had lost 30 pounds. Joining Calgary NWFBBC has literally changed my outlook on fitness. The friends I have made here and the knowledge gained from the instructors has literally changed my entire focus. I have lost an additional 24 pounds, and now my body is fitting in clothes that I wore 25 years ago (pre-pregnancy). I don't get hung up on numbers on the scale, I now critique myself on how I look in my clothes, what size I wear, the shape of my shoulders, the number of pullups I can do unassisted, the start of defined abs. This is a lifelong journey that I know I can now sustain. I am no longer on a weight loss journey but a fitness journey.
Lori is a beautiful inspiration inside & out! We are super lucky to have her call our FBBC gym "home"!
If you live in NW Calgary, feel free to give us a call to try out boot camp: 587-355-8353 or click here to come in for some free sessions.