Quick body weight workout anyone?
I always take my jump rope with me for an impromptu bodyweight workout. This one occurred in the gazebo with a Mama Robin keeping watch. She had a nest full of eggs just to my right (you'll see it at the end of the video).
I wanted to get in and get out of the gazebo to ease Mama Robin's stress so she could go back and sit on her eggs 😉
Here it goes: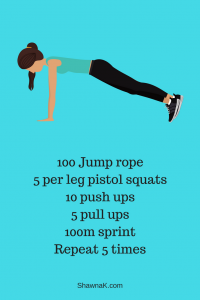 100 Jump rope
5 per leg pistol squats (or regular squats)
10 push ups
5 pull ups (do band pulls, wall stick ups if you can't do pull ups)
100m sprint
Repeat 5 times
This was super quick, sweaty and fun.
Did I tell you I'm giving away ALL my digital programs? Yup. When you coach with me, I'll provide access to any of my workout programs.