Want to fast track your results?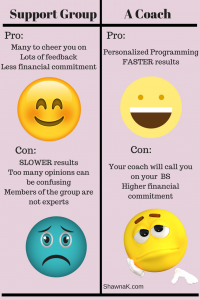 Would a support group or a coach be more helpful?
What's the difference?
I've been getting a lot of questions about this since I'm not longer providing the opportunity for you to get my programs without some level of support. The reason I'm doing this is because I realize that you're MUCH more likely to get results when you're accountable and supported.
But, what's the difference between a support group and a coach? Is a support group enough?
Let's dive in:

🔆Support Groups
😀Pro: support groups are excellent for the following reasons.
✅With many people available to cheer you on, you're sure to get some encouragement along the way while beginning a new habit, exercise program or new way of eating.
✅With a large group, you're sure to get feedback in some form.
✅And the bigger the group it is, the more likely there will be shared stories, struggles, and help.
✅As a group, everyone involved encourages one another.
✅Each person keeps each other accountable.
✅Every member, whether they know it or not, is a coach of somewhat to the whole group.
❓Since there are many people giving advice or opinions, you'll likely get varying answers to much-needed questions. This can be helpful sometimes but often can be confusing.
😞Con: While being in a support group is excellent in many ways; there can be some negative points.
❌Too often you get opinions that don't align which could confuse you more
❌There is no specific tailored plan for your individual needs.
❌Since there's no individual plan, it takes longer to reach your goals.
——————————————————————
🔆Coach
😀Pro: A coach, known as an instructor or specialized teacher. A coach guides their client to a targeted to the individual's needs and goals.
✅Creating a plan based on the individual's likes and dislikes, and desired outcome
✅The client will get their desired results MUCH quicker.
✅As the coach is specialized in a particular field, they are more apt to give answers to your questions to lead you on a path to gain results more than a group of individuals who do not specialize/trained in a particular profession that you are seeking advice.
😞Con:
➡Unlike a support group, a private coach will cost money BUT this is an investment, an exchange for their time, experience, a tailored plan, encouragement, accountability and accessibility through email, phone call and messaging.
➡It takes you being called out, and that's hard for some people.
➡It can be challenging. That's right; IT IS CHALLENGING so hiring a coach is reserved ONLY for those that are SERIOUS about getting results.
A good coach holds your feet to the fire so more is demanded from you, with personal interactions with your coach, you'll need to fess up at times for not staying on track. The tough emails and conversations are to bring you back on the right track.
===================================
Either way each of us must decide which is best for us – if getting results is YOUR goal, then having a combination of a coach AND support group is the BEST option.
Both Coach Katie and I have used both support groups and coaches. We know that to get best results, a coach is the BEST option.
If you're serious about results, let's get the conversation started. Answer a few questions here and we can discuss the what the BEST option for you is.
Keep in mind that hiring a coach is probably less of an investment that you might think – there are various levels of support available to you. Looking forward to helping YOU with a personalized plan.