We all have the same amount of willpower. We call can decide what we want to do and what we don't want to do.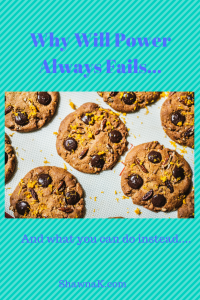 Unfortunately, where tough decisions are concerned, if we rely JUST on will power, we often will find ourselves in trouble.
For example, if I were faced with a plate of freshly baked chocolate chip cookies, I could only rely on will power for so long. At some point, once I got tired or frustrated, I'd be sure to dive into them.
What is your trigger? What are you using will power to muscle yourself through?
The best way to succeed at any endeavor is not to rely on will power at all.
Instead of relying on willpower, set your environment up for success.
Back to the chocolate chip cookie example, it would be best to package them up, put them in the freezer, send them home with a friend, or even throw them out! Because if they continued to sit on my table, they'd somehow fall down my throat. If I set up my environment so that there's no temptation, I won't cave. Make sense?
Simply get to know what your triggers are and create an environment to avoid the triggers.
Having a coach that provides direction and you need to be accountable to makes all the difference.
Start off with my healthy hormone challenge – this is a gentle whole food detox followed by 4 weeks of delicious healthy hormone eating, follow along workout videos and coaching with me in a small group of like minded women.
Join the waiting list here: http://www.7DayHormoneReboot.com (you'll get early notification and a coupon code!)