If you enjoy a cocktail or two, but don't want to pack on the pounds, I've got 10 tips for you below that will help cut down on the calories. I've also included 20 lower-calorie cocktail recipes  that I know you'll enjoy.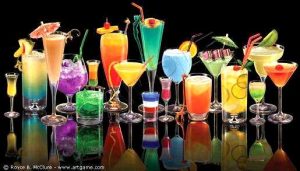 10 Tips for Cutting Down the Cocktail Calories
Alcoholic drinks can be a sneaky source of calories, sugar, and even salt—but not when you play bartender. Here are 10 tips for cutting down the calories while still enjoying your favorite cocktail:
1. Use only fresh-squeezed or 100 percent fruit juice to reduce added sugars. Fruit juice can still be high in sugar, though, so sometimes it's best to dilute it with water or ice to cut back on calories. (I use only a splash of fruit juice and low sodium club soda.)
2. Choose seltzer water (or low sodium club soda) over other carbonated waters to eliminate added sodium and other additives. For recipes that call for soda, skimp on portions, or try Crystal Light Pure (the natural version).
3. Make simple syrup with honey, which has some added benefitsthan just sugar, like a healthy dose of antioxidants. It also gives you better control of the sugar content. Any recipe that calls for simple syrup will use the following recipe: ½ tablespoon honey mixed with ¾ tablespoon warm water. You can also make simple syrup with Stevia.
4. Use whole fruit instead of sugar or flavored syrups. The fruit itself adds fiber, natural sugars, and vitamins.
5. Choose light (clear colored) alcohol over dark alcohol. The dark stuff contains more compounds known as congeners, which can worsen hangovers. Who knew??
6. Limit yourself to one shot per drink. Multi-alcohol cocktails can pack in serious calories, so I keep mine to one shot (or 1 ½ ounces) each. The shooters and shots I included actually contain less than one shot each to further lessen the caloric load.
7. Size matters—especially when it comes to consuming liquid calories. That's why I kept all the drinks below right around the 8-ounce mark.
8. Choose nutritious ingredients. Ginger, coffee and lemon star in several of my drinks. They've each got their own proven health benefits, even though they may not totally counteract the negative effects of alcohol.
9. Don't forget water. For every alcoholic drink you have, drink at least one extra glass of water. This will help your body metabolize the alcohol and may counteract some of the dehydrating effects of the alcohol on the body, such as next-day hangovers.
10. Don't drink on an empty stomach. Skimping on food in order to make room for drinks will most likely end up backfiring.
​​​​​​​Here's why: Most cocktails are loaded with sugar, so during a night of drinking, people end up with soaring blood sugar, followed by a crash that leaves them ready to devour anything in sight. Lowered inhibitions also make it difficult to say no to tempting food, so eat some healthy food along with your beverage.
Having a snack at home before you go out that includes a protein, natural carb with fiber, and a small amount of healthy fat is a great plan. A good example would be a half an apple, string cheese, and a large glass of water. Greek yogurt, berries, 10 almonds and a glass of water is another good one.
Well-balanced, healthy snacks like this will help stabilize your blood-sugar without slowing down your metabolism. An added benefit of snacking before having a drink is that the alcohol will be absorbed more slowly into the bloodstream, thereby minimizing its fat loss-damaging effects.
20 Lower Calorie Cocktail Recipes
1. Classic Mojito
In the bottom of a glass, muddle 12 fresh mint leaves, the juice of ½ lime, and 1 tablespoon simple syrup. Add a few ice cubes and pour in 1 ½ ounces (one shot) of light rum and ¾ cup seltzer. Garnish with a lime wedge.
2. Fruit Mojito
Prep a classic mojito, but before pouring in the rum and soda, muddle in ¼ cup fresh or thawed frozen fruit like strawberry, blueberry, mango, or kiwi in the bottom of the glass. Top with ice, rum, and seltzer and garnish as desired.
3. Sea Breeze
Pour 1 shot vodka, 1 shot cranberry juice (100 percent juice, no sugar added), and 1 shot fresh-squeezed  grapefruit juice over ice. Add a splash of seltzer and enjoy.
4. Berry Lemonade
In the bottom of an 8-ounce glass, muddle the juice of 1 lemon, ¼ cup frozen blueberries or strawberries, and ½ shot simple syrup. Pour in 1 shot of vodka and top with seltzer (about ¾ cup).
5. Minty Iced Tea
In a heatproof mug, combine 6 fresh mint leaves, 1 teaspoon honey, 1 black tea bag, and 1 cup boiling water. Cover and let sit for 2 minutes. Then, place mug in fridge or freezer until chilled. Remove tea bag and mint, and pour liquid into a glass with ice. Add 1 shot of vodka and garnish with a lemon wedge.
6. Grapefruit Margarita
Combine 1 shot of tequila, the juice of 1 lime and ½ a grapefruit, and ¾ shot of orange liqueur. Pour over ice.
7. Light White Russian
Combine 2 shots brewed coffee (or espresso!) chilled and ¾ cup skim milk. Add 1 shot of vodka and a few ice cubes and stir.
8. Rosemary-Cucumber Lemonade
Stir together juice from 3 lemons and 1 teaspoon honey. Add 1 shot rosemary-infused vodka and ¾ cup seltzer. Garnish with a cucumber spear and lemon wedge.
9. Pear Martini
Muddle half a very ripe peeled pear in the bottom of a cocktail shaker. Add ice, ½ shots fresh-squeezed lemon juice, and 1 shot pear vodka. Strain into a martini glass and garnish with a slice of fresh pear.
10. Sex on the Beach
In a glass with ice, mix 1 shot peach-flavored vodka, 2 shots cranberry juice, and 1 ½ shots fresh-squeezed orange juice. Add a dash of seltzer and enjoy!
11. Tropical Rum Punch
Stir together ½ cup fresh-squeezed orange juice, ½ cup pineapple juice (100 percent juice only!), and 1 shot light rum. Pour over ice and put on some shades.
12. Gin and Juice
Pour over ice: ½ cup of fresh-squeezed orange juice, 1 shot of gin, and ½ cup seltzer.
13. Lemondrop
In a shaker with ice, combine ⅓ shot. vodka, ⅓ shot fresh-squeezed lemon juice, and ¼ teaspoon honey.
14. Fuzzy Navel
In a shaker with ice, combine ⅓ shot peach Schnapps, ⅔ shot fresh-squeezed orange juice, ⅔ shot fresh-squeezed lemon juice, and ⅔ shot water.
15. Pina Colada
Blend together ½ cup ice, ½ cup coconut milk, ¼ cup fresh pineapple chunks, and 1 shot white rum.
16. Frozen Mudslide
Mix together 1 packet diet hot cocoa mix with 1 shot warm simple syrup and ¼ cup hot water. Blend the cocoa mixture, ¼ cup vanilla soy milk, 1 shot vanilla-infused vodka, 1 teaspoon chocolate syrup, and ½ cup ice.
17. Strawberry-Lime Daiquiri
Combine 1 shot simple syrup, 1 shot white rum, 2 tablespoons fresh-squeezed lime juice, a small handful of frozen strawberries, and ½ cup of ice. Blend.
18. White Sangria
In a wine glass, combine two strawberries (halved), ½ a fresh peach (diced), ½ a pear (diced), 2 shots white wine, and ¼ cup seltzer.
19. Red Sangria
Toss ½ an apple (sliced), ½ an orange (sliced), and 4 grapes into a glass. Add ½ cup fruity red wine and ¼ cup seltzer.
20. Sparkling Apricot Punch
In a glass, combine ½ cup diced apricots and ½ cup apricot juice (100 percent juice, please!). Add ½ cup sparkling wine and ¼ cup seltzer and stir to combine.
​​​​​​​
Okay, that should give you a few options next time you want to have a cocktail. Keep those simple 'rules' in mind and you'll be able to enjoy a drink without it sabotaging your progress.

And if you'd like a little hand holding and personalized direction on your fitness journey, I've got that for you – your own personal weight loss coach, workouts, nutrition, recipes, motivation, support and more. Click here to read more.