Have you got your bathing suit out this season yet? (Or is this something you're sort of avoiding?)
Summer is just around the corner (even here in Canada), so now's the time to do something so you feel more confident in whatever you choose to wear.
If you're looking for a quick solution, I have two tips…the first is a nutrition hack and the second is a workout hack.
Simple nutrition hack: The FASTEST way to drop a few pounds is to immediately go on a sugar fast. Cut out all foods that have added sugar (consider what you're drinking too!). You'll be surprised how this cleans up your diet right away and pounds literally will fall off.
I won't say this will be easy, but you actually won't go hungry just cutting out sugar and you'll feel more energized than ever before.
Second, a simple workout hack: If you can stick with intense 20 minute workouts 3-4 times a week, you'll burn calories long after your workout is over.
Yup, just 20 minutes of sweat…Cutting back on training time to boost your metabolism all day long ==> seems like the best workout hack ever =)
Did you know that a study from the University of Pittsburgh showed that those who work out with a partner lose a third more weight than those that go it alone?
In fact, if you're one of the 95% of the people who start a program but never finish it because you're lacking accountability, I can help with that…
I've put together a combination of metabolically challenging workouts – never packaged up like this before.
You'll get a taste of bodyweight, burpee and DB complex workouts, all with follow along or coaching videos for you.
And yup, they follow the workout hack tip since they're short 'n sweaty!
Here are two workout samples:
What To Do With a Box? – Burpee Workout
Equipment: box
Set a timer for 40 seconds of work with a 10 second transition:
Box jump burpee
Decline push ups
Burpee
Reverse bench step
Tricep skull crusher
Hamstring reverse hip lift
Repeat the circuit 2-3 times
Equipment: dumb bells, timer
Choose a weight that you can use for ALL exercises. Try not to put the DB's down throughout the set.
Timing 40/10:
front squat alternating shoulder press
push up renegade row
weighted burpee
wall sit alternating bicep curl
alternate 1 legged RDL
Repeat for 5 rounds
Now, if you want 16 more of these(18 workouts all together) => Click hereSo, if you're afraid of your bikini or board shorts (don't tell me you're wearing a Speedo fellas 😉 – fear no more!
Cut out sugar and do follow along workouts with me and you'll be all set for the beach!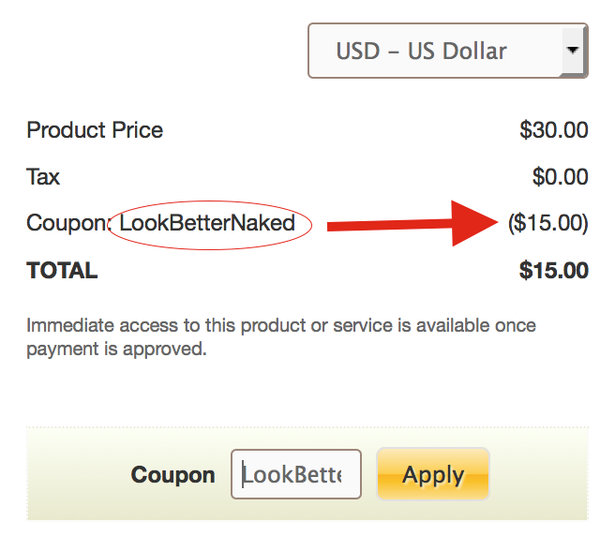 Oh, and just because you're a cool reader of mine, use the coupon code:
PS. You'll pay only 83 cents a workout here…you can't even buy a coffee at a low end convenience store for that!