Judy Lamont is a good friend, and one of our very favourite food and style bloggers.  Her popular blog The Joy Trail  is a visual feast and showcases her wonderful photography of fashion, home decor and, my personal fave, her divine food.  We're fortunate to have Judy writing for us today offering her delicious take on healthy snacks featuring tuna and apple "crackers".  
From Judy Lamont, The Joy Trail
If you've been one of Shawna's readers for any amount of time, you will know she is a big advocate of women eating more protein. I personally try to eat 100-120 g of protein per day while still staying within my calorie goals. This is not always an easy feat. In order to reach my protein requirements, I must incorporate protein into every single snack I eat.
Did I mention I eat two snacks a day?
Which means I eat fourteen snacks a week!
Did I also mention I hate eating foods on repeat?  As a food blogger and self-diagnosed foodie, that's absolutely against my foodie rules and religion.
This means that along my journey I have had to challenge myself to avoid snack boredom. It has demanded that I develop healthy snacks that satisfy my foodie side and my fitness and fat loss goals. This hasn't always been easy.
Shawna and I were chatting about my trials and tribulations around snacking and boredom and she thought it would be fun to share what I come up with here. Why? Because snack boredom is a seriously under-appreciated issue that often causes women like me to fall off the fitness and fat loss train.
First up is my answer to a cracker craving that packs a great protein punch!
Tuna – Apple "Cracker" Snacks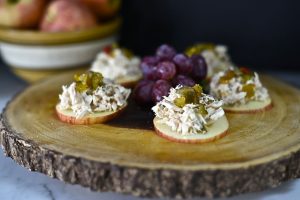 (Yield: 2 portions)
1 – 170 g can low-sodium, solid white albacore tuna, packed in water
2 tsp. good-quality, real mayonnaise
1 tbsp. green relish, optional (I use a homemade one)
1 gala apple
sea salt and pepper
1. Drain the tuna and mix with the mayonnaise in a bowl. Core the apple and cut into round, cracker-like slices. I like to make sure the apple is really cold to get a good crispy crunch.
2. Top the apple slices with the tuna mixture, which oddly does not seem to fall out of the hole created when you core the apple, and dot a little of the green relish on top. The relish is totally optional, but it's how I bump up the flavour without increasing the calorie-laden mayo. Sounds weird, but it strangely works for me and keeps me within my goal range.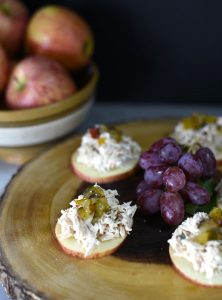 3. If you're not into bothering with the coring and slicing bit with the apple (just so you can trick yourself into thinking you're eating crackers, I do this sometimes because of that whole foodie weirdo thing I have), just dice up the apple, toss it in, and eat the whole mess with a fork!
4. Lastly, season with a pinch of sea salt and pepper if you like and enjoy.
If I'm not sharing this, I mix up the tuna and eat half for my afternoon snack, then I refrigerate it and the other half the apple for the next day. For a lunch idea, this is great on a bed of lettuce, in which case I eat the whole mess.
If you're not a huge tuna fan, this also works really well with diced chicken, a pinch of curry powder added to the mayo, and a little slice of grape on top!
Nutritional info:
150 cals, 16g protein, 13 g carbs (2g fiber), 4g fat, and contains 89% of your daily recommended allowance of Vitamin C without an ounce of o.j. in sight!
Happy Snacking Friends!
~Judy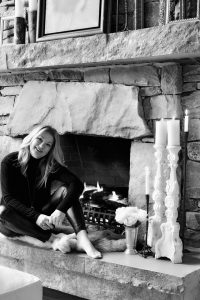 Judy Lamont is a West Coast food and lifestyle blogger with life in one hand, a camera in the other, and her feet firmly planted on The Joy Trail. You can enjoy more of Judy's work on TheJoyTrail.com