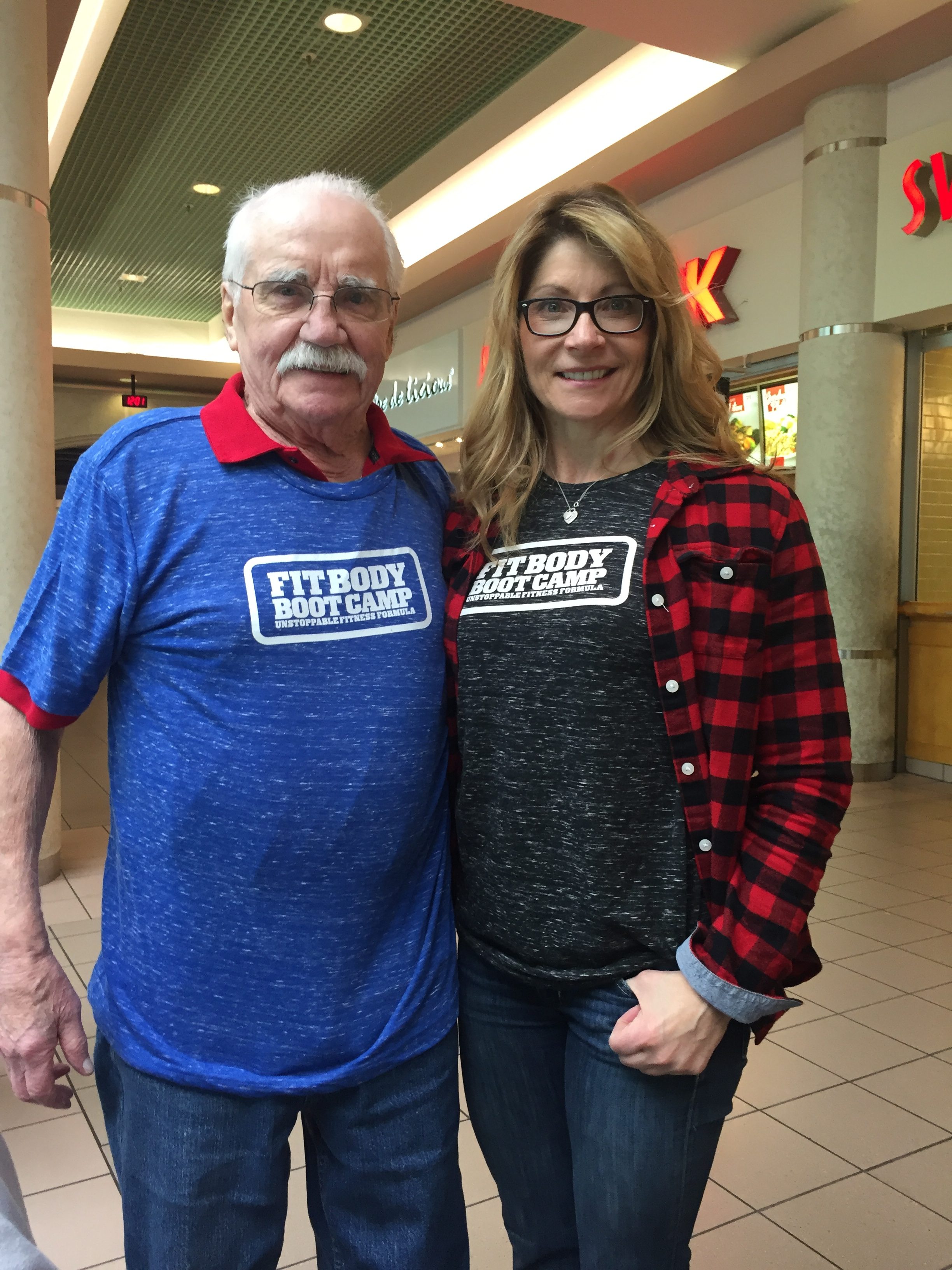 I want to give a shout out to my good old dad. I flew my dad to Calgary for his 82nd birthday (and we also celebrated the 10th anniversary of my fitness boot camp the same weekend). We had a great few days together.
Now my dad has had some health challenges since he had a few strokes a couple years ago and he has fought his way back.
I have a lot to learn from my dad.
My dad has worked so hard to regain his strength and his mobility as well as his vocabulary. He is the perfect mix of humility and stubbornness. He asks for help when he needs it, but he's not a victim and does things on his own as much as he can.
This is a great lesson for each of us in our own health journey.
We need to reach out for help to get the support we need, but when it comes right down to it, just like my dad, we need to dig deep and do what we need to do.
Now I usually support people in their fat loss journey, but while fat loss is important, it's really ALL about health. If we don't have our health, we have nothing. We can't just throw money at our health and hope it improves. We can't buy more time. So while it's important to look great, if we are looking great, it is because we are healthy, which is the most important thing.
Vanity is the motivation for working out or dieting for many people and I'll admit that I am as vain as anyone. At the end of the day, it doesn't necessarily matter what the motivation is to improve your health. If improved health is the end result, be vain and stubborn all day long 😉
My dad is an inspiration and I thought it's a good lesson to be stubborn enough to stay the course on your health journey. Be humble enough to ask for the help you need along the way.
If you're struggling with your health, consider getting a coach. I have a coach.
Coaches hold you accountable, they hold your feet to the fire and ask the hard questions. Coaches help you get the results you want.
I have limited space for private one on one clients and I have a robust group coaching program.
You can Apply HERE for either option – we can see if you're a good fit.
PS. If you're lucky enough to have someone who is 'chronologically gifted' in your life, give them a big hug and spend lots of time with them. We have so much to learn from them. (And hey, some would say would anyone over 50 is 'chronologically gifted' too, so I'm expecting a lot of hugs 😉 )