Summer is often a time when fitness and healthy living gets put on hold…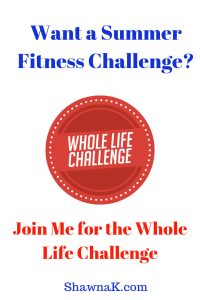 Luckily, I have the PERFECT SOLUTION for you to keep your health at the forefront of your mind. It's a 'challenge' like no other.
Remember those 'choose your own adventure' books? Well, this challenge is very much like that.
YOU get to choose the challenges you want to take on (and you can do it from anywhere).
You'll focus on the following:
✔️nutrition
✔️exercise (10 min)
✔️mobility
✔️sleep
✔️hydration
✔️well being
✔️reflection
YOU get to decide how strict or how moderate you want your challenges to be.
Take a look at this video to see the seven areas that the Whole Life Challenge (WLC) addresses:
The WLC is a great way to game-ify health & fitness for six weeks this summer. You'll earn points for a team & you keep track of your individual points daily.
Of course I want you on MY TEAM!  When you join MY team, I'll be checking in with a daily message to keep YOU motivated and on track. It's a way for us to stay connected over the six week challenge.
The great thing is that you can do the WLC NO MATTER WHERE YOU ARE geographically…
You can be local in my fitness boot camp , you can be on holiday or you can live across the globe. As well, it doesn't matter where you are in your fitness journey. You can be just starting out with fitness or you can be a fitness veteran.
The biggest benefit of the WLC is the accountability  that it provides. There's nothing like being part of a team, leaning on each other and sometimes making those healthy choices 'for the team' when you don't feel like doing it for yourself.
The Whole Life Challenge officially starts on July 13th, but let's get organized NOW.
Join my team here: https://play.wholelifechallenge.com/challenges/59/teams/fbbc
My team is called 'Fit Bodies'.
I'm excited to do the challenge with you!